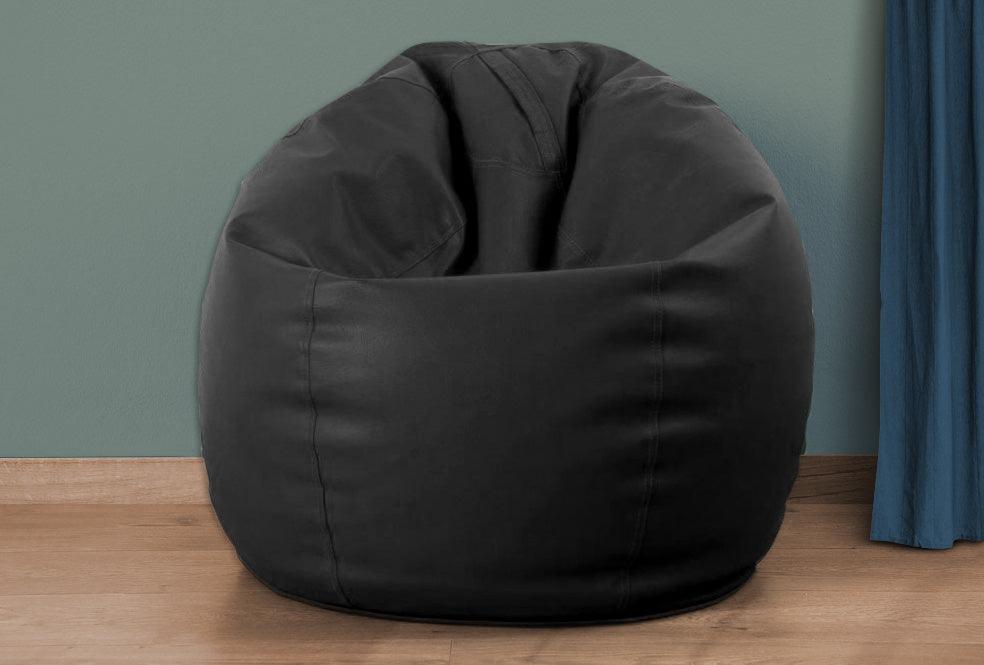 Kids Bean Bag D50x80 - Black
Save

30

%
Save

30

%
Original price
AED 207
-
Original price
AED 207
Get it between -
FUN FOR KIDS:
Add some fun to your basement hangout, dorm room, or bedroom with this super comfy bean bag chair! This Kids Bean Bag D50x80 - Black is ideal for kids, teenagers, college students, and stressed out adults. Use it while watching your favorite movies, TV shows, or while playing your favorite game.
Our generous GOOFBALL designer kids bean bags in Black Color will delight your sense of touch and your eyes. They add a splash of elite style to all types of decor including minimalist, modern and man-cave.
Use this Kids Bean Bag D50x80 - Black filled with beans to sit snugly in your home or workspace. Crafted with a perfect shape and a handle it is easy to carry and move and the zippered closure can be used to fill beans.

Primary Material : Polyurethane
Features : Easy Care
Care Instructions : Spot Clean
Shape : Round
Type : Bean Bags
Color : Black
Size: 50 x 80 x 80 CM
Premium Quality : PU Leather Fabric Suitable for Indoor Use
Filling Included :- Product Requires 3.5kgs of filling
Separate Inner Liner
Childproof Zippers
MADE IN UAE.
أضف بعض المرح إلى مكان الاستراحة في الطابق السفلي أو غرفة النوم أو غرفة النوم مع هذا الكرسي المريح للغاية من بين باج! تعتبر حقيبة الأطفال هذه D50x80 - أسود مثالية للأطفال والمراهقين وطلاب الجامعات والكبار الذين يعانون من الإجهاد. استخدمه أثناء مشاهدة أفلامك أو برامجك التلفزيونية المفضلة أو أثناء لعب لعبتك المفضلة.
أكياس الفاصوليا للأطفال من مصمم GOOFBALL السخي باللون الأسود ستسعد حاسة اللمس وعينيك. إنها تضيف لمسة من طراز النخبة إلى جميع أنواع الديكور بما في ذلك الحد الأدنى والحديث وكهف الإنسان.
استخدم كيس بين باج للأطفال D50x80 - أسود مليء بالفاصوليا للجلوس بشكل مريح في منزلك أو مكان عملك. صُنعت بشكل مثالي ومقبض يسهل حملها وتحريكها ويمكن استخدام الإغلاق بسحاب لملء الحبوب.
الخامة الرئيسية: بولي يوريثين
الميزات: رعاية سهلة
إرشادات العناية: تنظيف البقع
الشكل: دائري
النوع: أكياس فول
لون أسود
الحجم: 50 × 80 × 80 سم
جودة ممتازة: نسيج من جلد البولي يوريثان مناسب للاستخدام في الأماكن المغلقة
الحشوة متضمنة: - يتطلب المنتج تعبئة 3.5 كجم
بطانة داخلية منفصلة
سحابات مانعة للأطفال
صنع في الامارات.