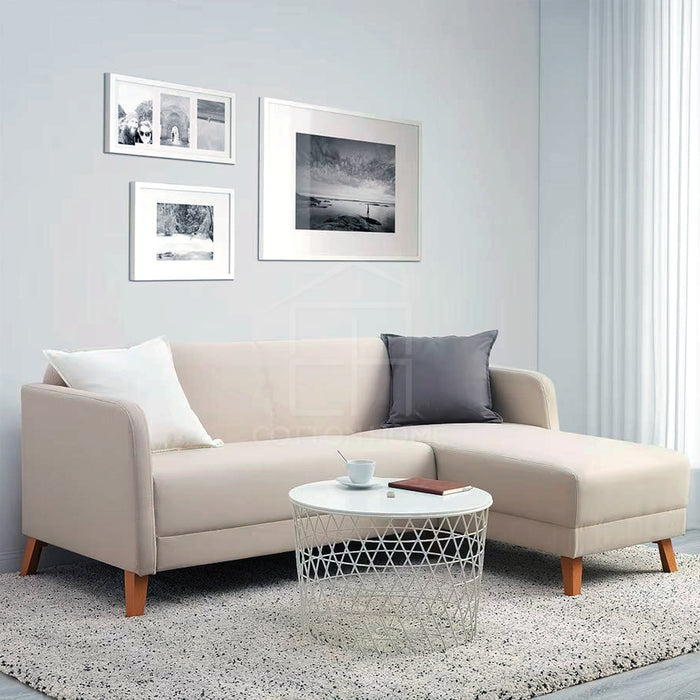 Solcian 3- Seater Chaise Longue Fabric Sofa L145cm x W197cm x H76cm Beige
Save

43

%
Save

43

%
Original price
AED 6,300
-
Original price
AED 6,300
Get it between -
Introducing our elegant and versatile 3-Seater Chaise Longue Fabric Sofa in a stunning Beige hue. With its sleek design and premium craftsmanship, this sofa is the perfect addition to any modern living space.
Constructed with a strong and durable seat frame made of plywood, non-woven polypropylene, polyester wadding, felt liner, laminated veneer lumber, polyurethane foam, fiberboard, and fiberboard, this sofa offers exceptional stability and comfort.
The back frame is built with steel, felt liner, and epoxy/polyester powder coating, ensuring long-lasting support and durability. The armrest, crafted from plywood, polyurethane foam, polyester wadding, recycled solid paperboard, fiberboard, and fiberboard, provides a plush and comfortable place to rest your arms.
For added comfort, the sofa features a back cushion made of non-woven polypropylene, polyurethane foam, and polyester wadding, allowing you to sink into a state of relaxation.
The sofa's leg is made from sturdy ABS plastic, providing stability and ensuring a firm foundation.
Material
Fabric: 100% polyester (min. 90% recycled)
Seat frame: Plywood, Non-woven polypropylene, Polyester wadding, Felt liner, Laminated veneer lumber, Polyurethane foam , Fiberboard, Fiberboard
Back frame: Steel, Felt liner, Epoxy/polyester powder coating
Armrest: Plywood, Polyurethane foam, Polyester wadding, 100% recycled solid paperboard, Fiberboard, Fiberboard
Back cushion: Non-woven polypropylene, Polyurethane foam, Polyester wadding
Leg: ABS plastic
Measurements

Depth: 80.5 cm
Height: 76.0 cm
Width: 197 cm
Seat depth: 59 cm
Seat height: 46 cm
Armrest height: 66 cm
Depth chaise longue: 145 cm
Free height under furniture: 15 cm
Seat depth, chaise longue: 127 cm
Seat width: 178 cm
Care
Fixed cover
Do not wash.
Do not bleach.
Do not tumble dry.
Do not iron.
Do not dry-clean.
Vacuum clean.
Wipe clean with a damp cloth.

Safety & compliance
Abrasion is resisted by the VISSLE permanent cover for 50,000 cycles. For regular usage at home, a cover that can last 15,000 cycles or more is acceptable. More than 30,000 cycles indicates strong abrasion resistance.
On a scale of 1 to 8, the cover has a lightfastness rating of 6 (the capacity to fend against color fading). Industry guidelines state that products with a lightfastness rating of 4 or above are appropriate for use in the home.
------------------------
Delivery Time : 7-10 Days