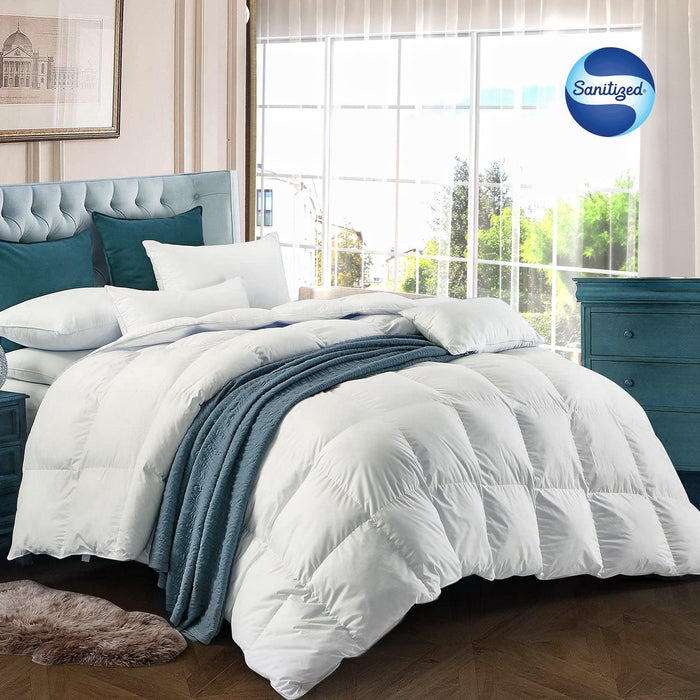 White Sanitized Duvet Anti Allergy Fabric 1 piece 200x200cm White
Sold out
Original price
AED 72
-
Original price
AED 72
Get it between -
Description
Sanitized protection in the bed does not mean just relief for allergy sufferers. The protection against mildew, dust mites, bedbugs, and unwanted bacterial odor enhances each part of the bed system. This Sanitized Duvet - 1 Piece - Anti Allergy Fabric - (200 X 200 CM ) - White is made for your Safety, good sleep, well-being and peace of mind for your bedroom at home, in a hotel room or in hospitals and nursing care facilities. Wherever you lay down to rest the Sanitized bedding hygiene function ensures deep cleanliness and built-in antimicrobial protection in the material.
Chemical from Switzerland, special finishes/benefits
1.  Effective "anti-microbial treatment"
2. Prevents safely the multiplication and growth of all bacterial and fungal micro-organisms, no fungi, no bacteria anymore.
3.  Breathe Easily and Relax
4. Sanitized provides reassuring feeling and lasting freshness. 
5. Protection: Hygiene function reliably and durably protects materials against UV radiation, rain, mildew and mold growth or other aggressors.
6. Unattractive sports and stains, don't have chance with Sanitized

Product Includes
One filled Duvet 200x200 
Material : Sanitized Super Soft Fabric
Filling : 250g microfiber filling
Washing instruction : Effective up to 10 washes

Experience the ultimate comfort and protection with our 1 piece white sanitized duvet. Made with anti-allergy fabric and measuring 230x220CM, this duvet is perfect for a restful and healthy sleep. Order now and enjoy the benefits of our high-quality bedding.