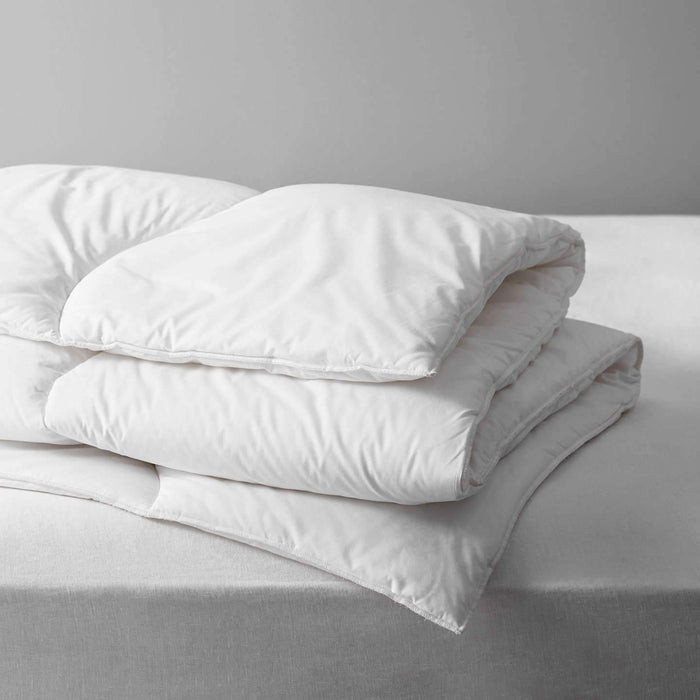 White Comforter King- 1 piece 100% Cotton 300TC Fabric Soft Filling - (240 X 260 CM) - White
Sold out
Original price
AED 350
-
Original price
AED 350
Get it between -
Description
Cotton Home most luxurious White Comforter King size, the White Comforter King- 1 piece 100% Cotton 300TC Fabric  Soft Filling - (240 X 260 CM) - White provides superior insulating comfort and loft with a down-like warmth and feel. Filled with the highest quality hypoallergenic synthetic microfiber fill, its silky soft shell is made from naturally-breathable 300-thread count extra-long staple cotton with convenient corner tie loops to secure your duvet cover and details of white-edge piping for a tailored crafted look. The sewn through baffle box construction allows for maximum thickness and comfort while still keeping the fill and warmth evenly distributed for a blissful night's sleep.
Product Details
Premium Fiber filling.
300-thread-count 100% extra-long staple cotton. Baffle-box construction to allow for uniform warmth distribution.
Corner tie loops that attach to our duvet covers' corner ties to keep your comforter in place.
Size: 240 X 260 CM
وصف
لحاف من القطن الأبيض الأكثر فخامة حجم كينج ، لحاف أبيض كينج - قطعة واحدة 100٪ قطن 300 تي سي حشوة ناعمة - (240 × 260 سم) - أبيض يوفر راحة فائقة في العزل وطابق علوي مع دفء وإحساس يشبه الزغب. مليئة بأعلى جودة حشو ألياف دقيقة صناعية مضادة للحساسية ، غلافها الناعم الحريري مصنوع من قطن طبيعي طويل للغاية بعدد 300 خيط قابل للتنفس مع حلقات ربط زاوية مريحة لتأمين غطاء اللحاف وتفاصيل الأنابيب ذات الحواف البيضاء من أجل صناعة مصممة خصيصًا نظرة. يسمح هيكل صندوق الحاجز المُخيط من خلال الحياكة بأقصى سمك وراحة مع الحفاظ على توزيع التعبئة والدفء بالتساوي من أجل نوم هنيء بالليل.
تفاصيل المنتج
حشو ألياف ممتاز.

300 خيط-تعداد 100٪ قطن طويل جدًا. هيكل الصندوق الحاجز للسماح بتوزيع الحرارة بشكل موحد.

حلقات ربط الزاوية التي تعلق على أربطة الزاوية لأغطية الألحفة لإبقاء اللحاف في مكانه.

الحجم: 240 × 260 سم