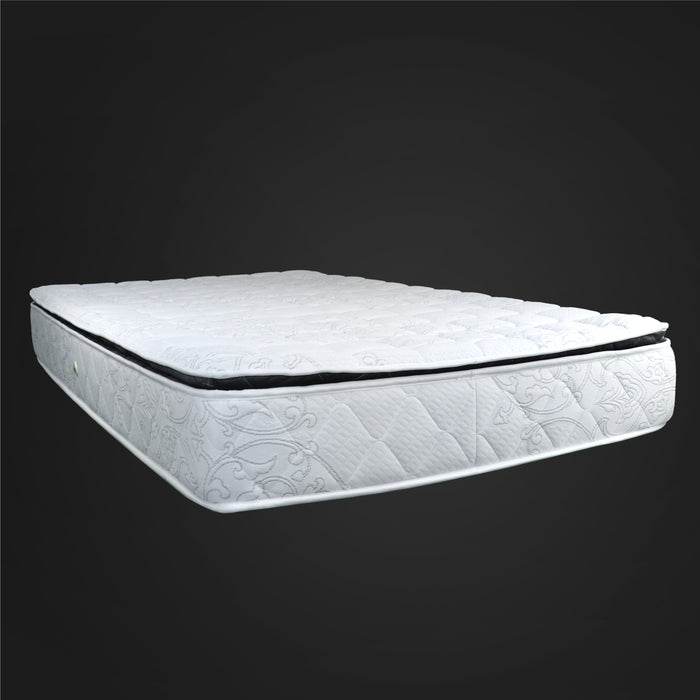 Luxury Sleep Pillow Top Foam Mattress | Medium Firm Feel | King - White/Black
Save up to

0

%
Save %
Original price
AED 840
-
Original price
AED 933
Get it between -
Introducing our Pillow Top Foam Mattress, designed to provide you with the ultimate comfort and support for a great night's sleep.
This mattress features a luxurious pillow top layer that adds an extra layer of plushness, allowing you to sink into a cloud-like comfort as you rest.

Underneath the pillow top layer is a supportive foam layer that provides the necessary
support for your spine, ensuring proper alignment and reducing the likelihood of back pain.
Dimensions
Width (cm) : 180
Depth (cm) : 200
Thickness (cm): 27
Specifications
Spring Type : Pocket Spring
Breathable Construction : Yes
Comfort Level : Medium Soft

FAQ
What is your best mattress for those who have back pain?
Back problems may result because of different reasons. It is safest to follow your doctor's advice. Our
advice is to choose our "Dream ON" mattress in which we are using "center core support" technology to
gives extra support for your middle heavy part of the body.
Which kind of fabric you are using on your mattress?
We are using different kinds of fabrics in different models which include satin cotton jacquard and knitted
fabrics.
How often should we change our mattress?
According to mattress experts and scientists, we should replace the mattress every 5-7 years. Over time,
our mattress loses its shape & shows signs of wear & tear. It accumulates dead skin cells & allergens or
dust mites. As our mattress ages, we also as the occupant, may go through some physical changes which
will be another factor to replace our mattress.
Which one is best pocket spring or bonnel spring mattress?
Here's a quick summary so you can make an informed decision. Bonnell Springs are generally better for
orthopedic support while Pocket Springs reduce movement transfer and help you sleep disturbance-free.
What is the best type of mattress for a side sleeper?
Most side sleepers prefer a pillow top mattress because they need more support for their hips and
shoulders.
What is the best bed for sleeping on your stomach?
A firmer mattress is best for a stomach sleeper. With too soft of a mattress, stomach sleepers risk sinking
in too far and overextending the arch of the back. This can cause immediate discomfort and result in
waking up with a sore lower back.What is the difference between a Pillowtop and a Eurotop Mattress?
The difference between a pillow-top and a Euro-top is mainly in their choice of materials, plushness, and
where they are sewn onto the mattress. Pillow-tops are softer, fluffier, and create a more "bowed"
appearance to the top of the mattress (similar to the shape of a pillow). Euro-tops are more dense, and
completely flush with the surface of the mattress.
Is a double-sided mattress (flippable) better than a one-sided mattress (non
flippable)?
There are a few differences in quality between a one-sided and a double-sided mattress, and double-sided
mattresses are not as common as they use to be. Mattress manufacturers have moved towards one-sided
mattresses due to complaints about sagging and body impressions in double-sided mattresses. One-sided
mattresses allow you to sleep on more comfort materials without adding as much height.